Hydrogen water server for home use or small offices
H2 water server designed in cooperation with medical institutions in Japan
Water server with large water reservoir fill up with mineral water or tap water
Smart unique design as electrodes are not in direct contact with the water
Create high concentrated hydrogen water in only 8 minutes
Easy to clean
Designed and Manufactured in Japan
Sedis H2 water server series is the latest hydrogen cooling dispenser that generates water containing high amounts of hydrogen from mineral water. The Sedis H2 doesn't have a filtering system, and doesn't require a water connection, so it's easy just fill it up with a bottle of mineral water. For the generation of hydrogen, an electrolysis hydrogen bubble technology is used. The units are easy to install in an office, kitchen or living room.
Drink delicious hydrogen water and stay healthy all the time.
The revolutionary hydrogen water server is developed in cooperation with a manufacturer of medical supplements. Up to now we have been committed to making the hydrogen server "Honmono" what is Japanese and means: Development without compromise to be safe, secure, and demonstrate a great benefit. For the hydrogen server clients in Japan gave us many good recommendations.
Conventional electrolysis hydrogen water dispensers that have a high concentration of hydrogen water are difficult to create and more difficult to make them safe. In the H2 server, a new technology is adopted the hydrogen gas bubbling method. Pure only hydrogen gas is produced in a water tank that is not used for drinking water. The hydrogen gas is then transferred to the drink-water tank and then mixed and melted. Via this method it's possible to obtain safe hydrogen drinking water that has not been in contact with metal electrodes that can leak ions into the water. The concentration of hydrogen with 1.6 ppm is also very high.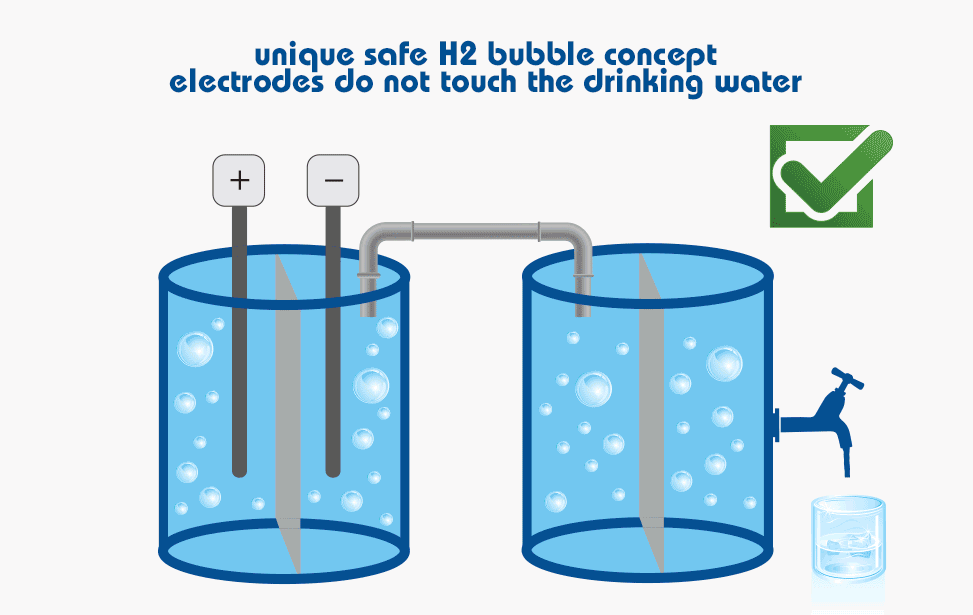 A general hydrogen water server is making hydrogen water by inserting electrodes into water moving a current through the electrodes and electrolysis is started. Electrolysis is the separation of O (oxygen) from the water molecule H2O. If the electrodes are in the drinking water this production method has a risk that the electrodes dissolves in water leaving metals in the drinking water. H2 servers does not bring electrodes into contact with drinking water. We adopt a hydrogen bubbling method which produces safe hydrogen water by bubble transfer.
research articles
Hydrogen therapy has reached the awareness by many researchers. As of 2013, the number of publications about hydrogen on its biologically or medically beneficial effects has surpassed 300. Below a few articles which helps you to learn more.
hydrogen server models
acniti has a complete line of hydrogen water dispensers and a hydrogen inhalation device.
Sedis H2: water dispenser for private use and small offices
Sedis H2 Respiro: water dispenser for home use including a hydrogen respirator
Magna H2 water server for professional gyms, sport centers and larger offices
Respiro-cubic H2 a high concentrated "hydrogen inhalation therapy unit"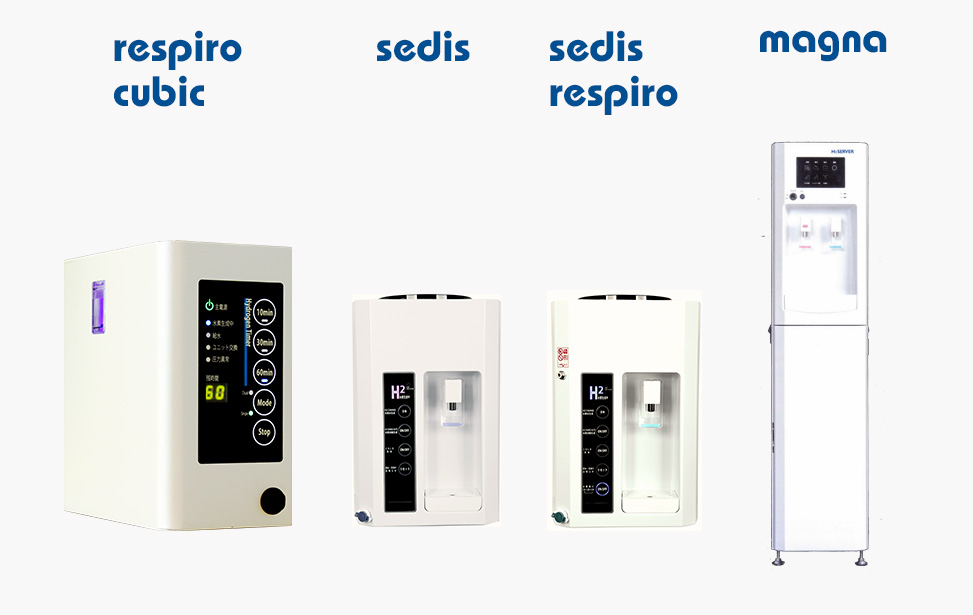 specifications
| Description | Metric | Imperial |
| --- | --- | --- |
| Model name | H2 water server Sedis | |
| Model number | FZ1A-H2WS-SE | |
| Gas | Hydrogen gas | |
| Electricity | 100VAC with transformer included for 110 or 220 Volts | |
| Power consumption | 120 watts max when cooling and producing hydrogen | |
| Dimensions | | |
| Size W x D x H | 325 x 325 x 500 mm | 12.8 x 12.8 19.7 inch |
| Weight | 17.5 kg | 38.6 lbs. |
| HS code | 8516.79.00.00 | |
| Shipping size W x D x H | 35 x 35 x 55 cm | 14 x 14 x 22 inch |
| Shipping weight | 20 kg | 44lbs |
remarks
The units comes with a power cord of approximately 2 meters 79 inch.
The water storage tank can contain a maximum of 2.3 liter 0.6 gallons.
Dissolved hydrogen concentration is 1.2 ppm to 1.6 ppm (higher h2 concentration when water is cooled)
Cooling capacity water: 6 ℃ ~ 15 ℃, 43℉ ~ 59℉